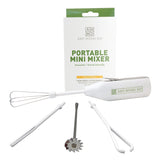 FREE GIFT - Portable Mini Mixer
Put away the spoon. No need to use the blender. When it comes to making a perfectly-mixed beverage, my Portable Mini Mixer will get it done in just a few seconds... without the hassle (or cleanup) of a shaker, blender, or mixer! As a medical doctor, mother, and wife, I'm always looking for tools to save time and hassle — I use this Portable Mini Mixer practically every day!
Portable Mini Mixer comes with 4 attachments, which are dishwasher safe. Each attachment serves a different purpose, giving you added versatility to: beat/whip, mix, blend/stir, or froth. Now you can easily make The Myers Way®-approved desserts, froth your favorite beverage, mix up a single shake, whip eggs, or blend your favorite dressings and sauces.
For small jobs around the kitchen, my Portable Mini Mixer definitely comes in handy. It's a simple, effective way to mix a variety of liquids — much easier and more effective than shaking or stirring by hand. Less hassle and less cleanup means you can spend more time doing what matters — like enjoying a Paleo Protein smoothie with your family (and they won't have a clue how easy it was)!
My Portable Mini Mixer is perfect for anyone who:
Is looking for a lightweight tool that can quickly and easily mix liquids

Needs a quick way to blend The Myers Way® Paleo Protein powders, Collagen, Bone Broth, or Organic Greens into their smoothies or preferred beverage

Has tried other handheld mixers that just didn't work

Is dealing with limited hand strength or wrist dexterity

Doesn't like the typical messy cleanup associated with heavy blenders or mixers
Suggested Use: First submerge the tip of the stick attachment into your liquid, then hold down the 'on' button, moving the stick around until sufficiently mixed. Requires 2 AA batteries, not included. Wipe handheld unit with a damp cloth.
Measures: 4" x 1.5" x 1" / 10cm x 4cm x 2.5cm
FAQs
Will this blend oil into coffee well?
My Portable Mini Mixer works great for blending additions such as MCT oil and non-dairy creamers into your coffee or other beverages.
How long do the batteries last?
The answer depends on your frequency of use. For the average use case, such as mixing your coffee for 10-15 seconds a day, the batteries tend to last a really long time — up to six months or more!
Do you need to hold the button down while mixing?
Yes, you have to hold the button while mixing. Portable Mini Mixer only runs while the button is held down.